Both of Heavener High School's basketball teams will play in the Battle on the border tournament at Arkoma this week. Heavener's girls play the Mulberry/Braggs winner at 7 p.m. Tuesday. The boys take on the Arkoma/Union Christian Academy winner at 8:20 p.m. Tuesday. Losers play in the consolation round Thursday while the winners advance to Friday's finals.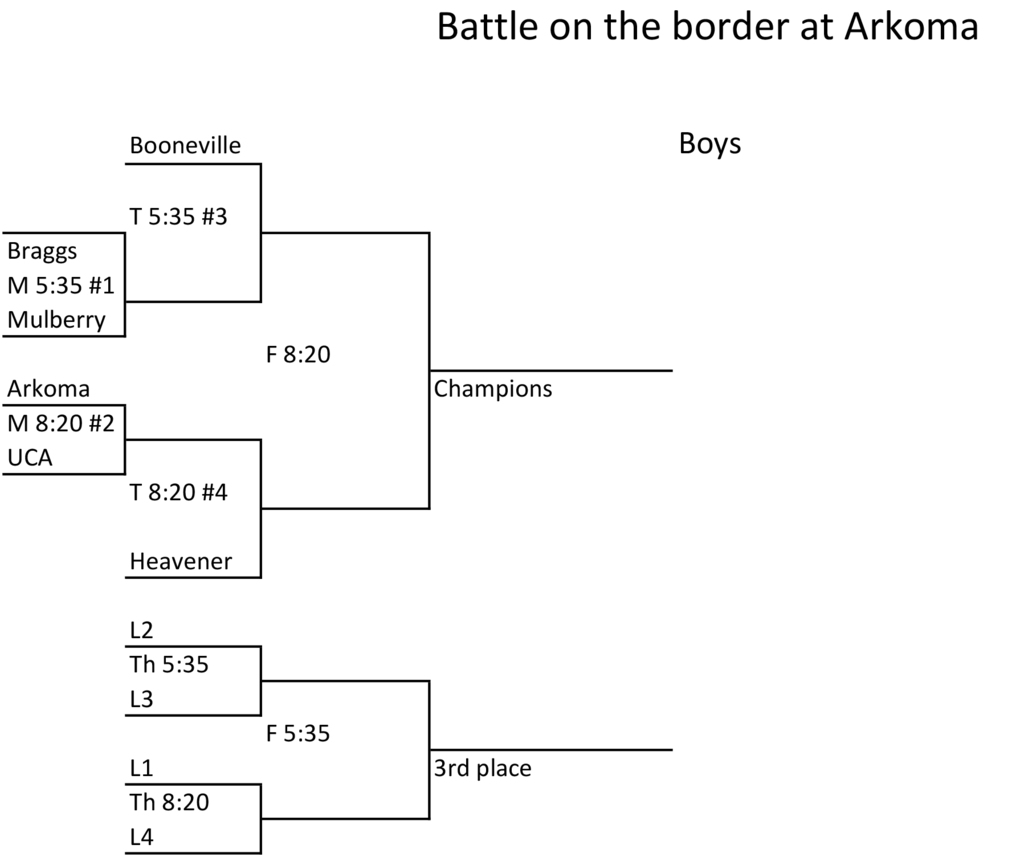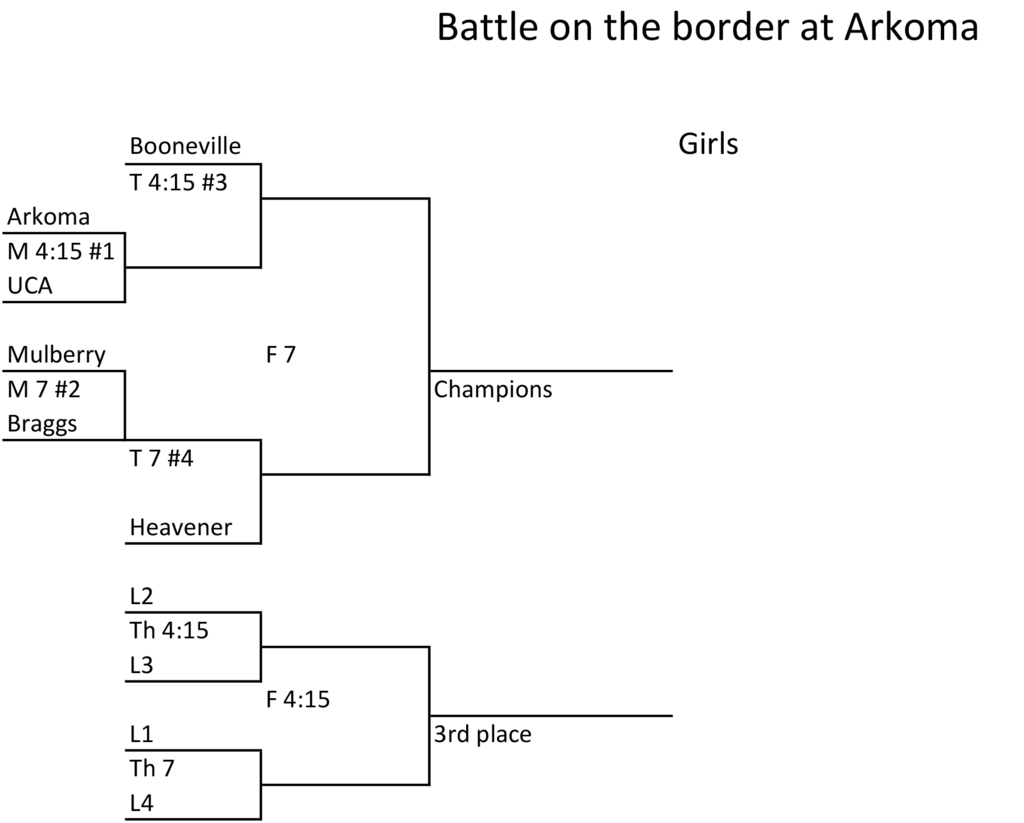 Landon Thurman scored 15 points and Heavener got a big lift from Zaid Rodriguez off the bench in a 50-37 win at Panama Friday night. After Panama had trimmed a 20-point deficit to six points, Rodriguez made a basket and had an assist to Nick Lopez on the next offensive series as Heavener's lead grew back to double-digits. Heavener is 2-0 and plays in the Battle of the Border at Arkoma this week.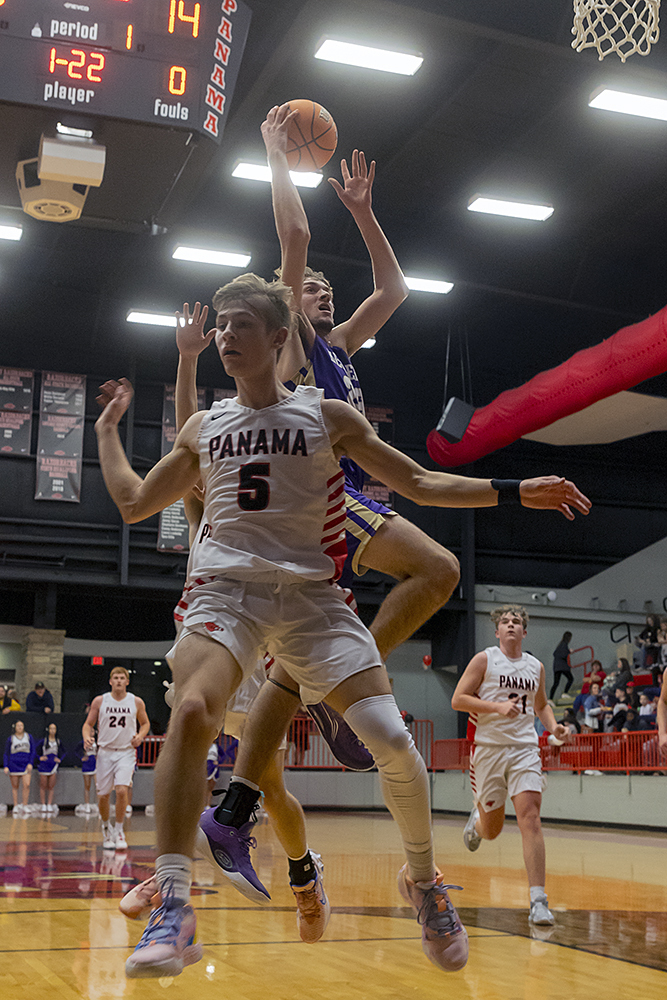 Lady 'Backs top Heavener Heavener senior McKinley Alexander had a much better game Friday at Panama than she did in a season-opening loss at Wister. Alexander scored 14 points, but the Lady Backs' Hailey Blair scored 28 in a 43-36 win. Panama is 2-1 and plays in the Porum Tournament while Heavener, 0-2, is in the Battle of the Border at Arkoma.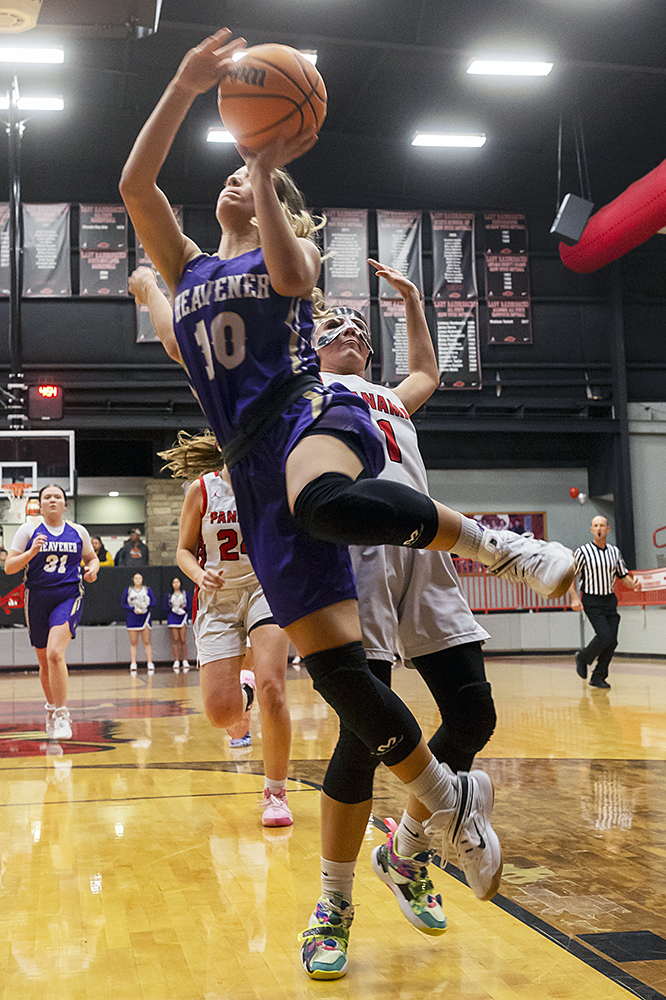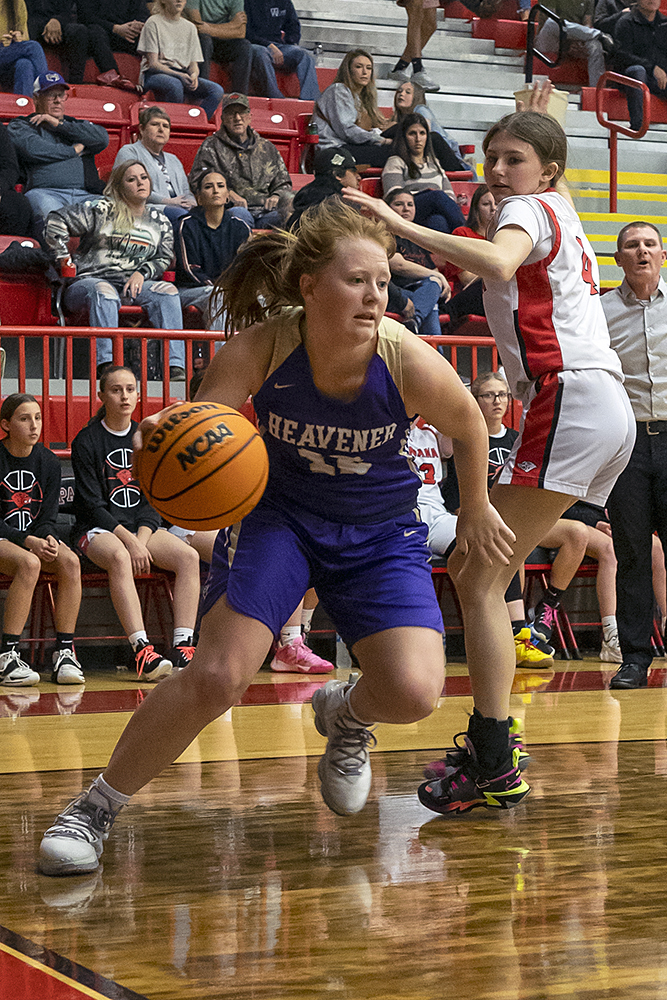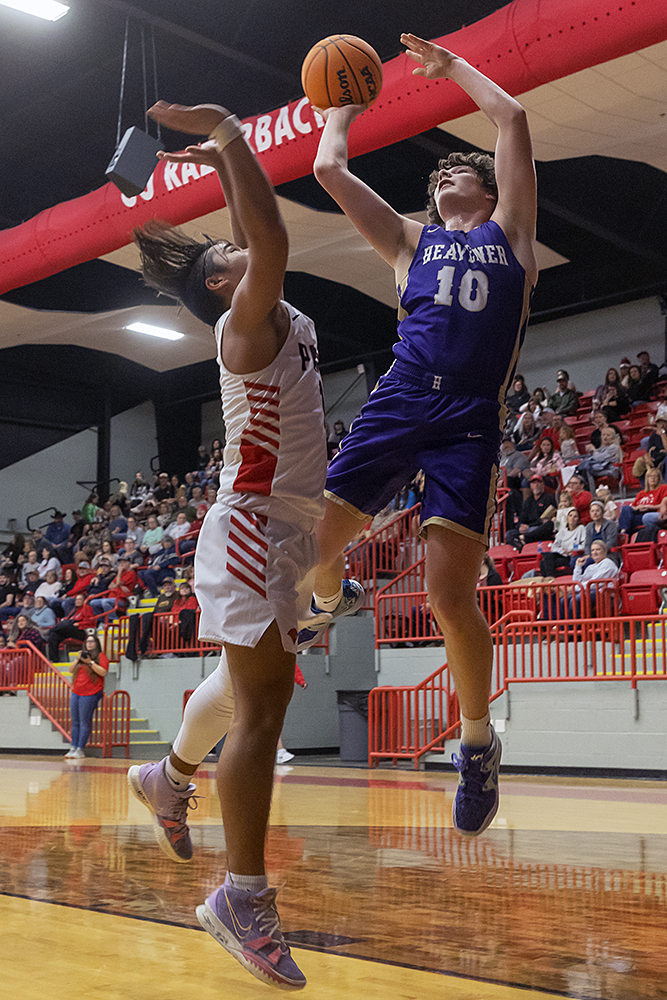 Heavener Middle School students of the month are Chet Kirby, Jonah Scroggins and Sapphire Diaz.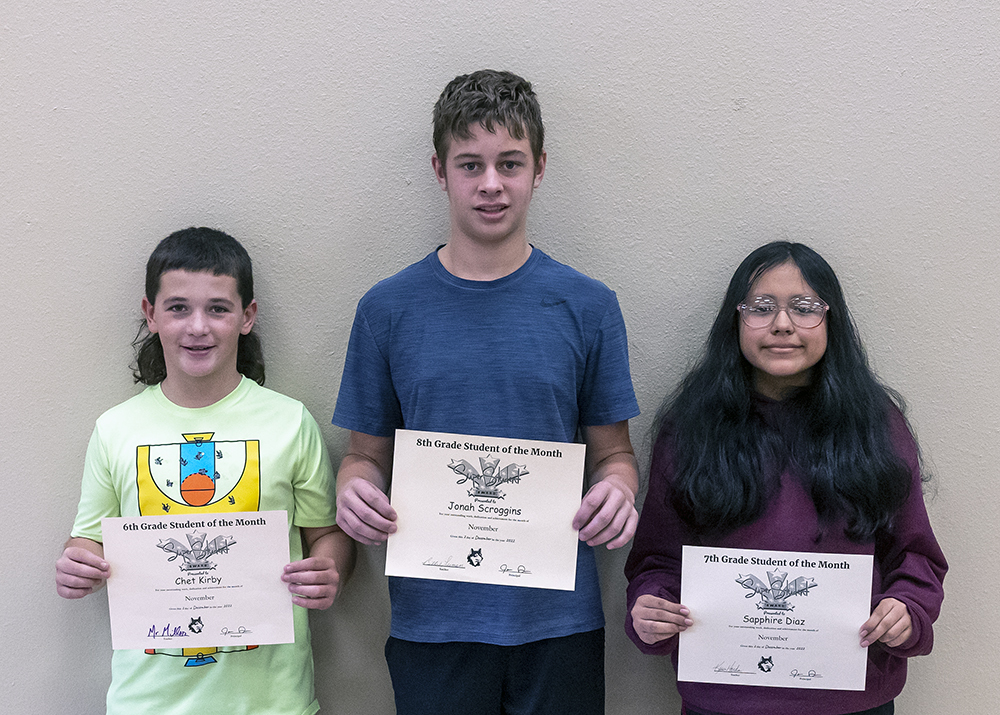 Reagan Hillebrand of Reagan Hillebrand Photography gave an entertaining presentation to Heavener Middle School students Friday. She talked about photography and gave a presentation of her drone. She is a 2015 graduate of HHS and the daughter of high school teacher Aaron Alexander. Also pictured are student council members Hector Hernandez and Brooklynn Woods.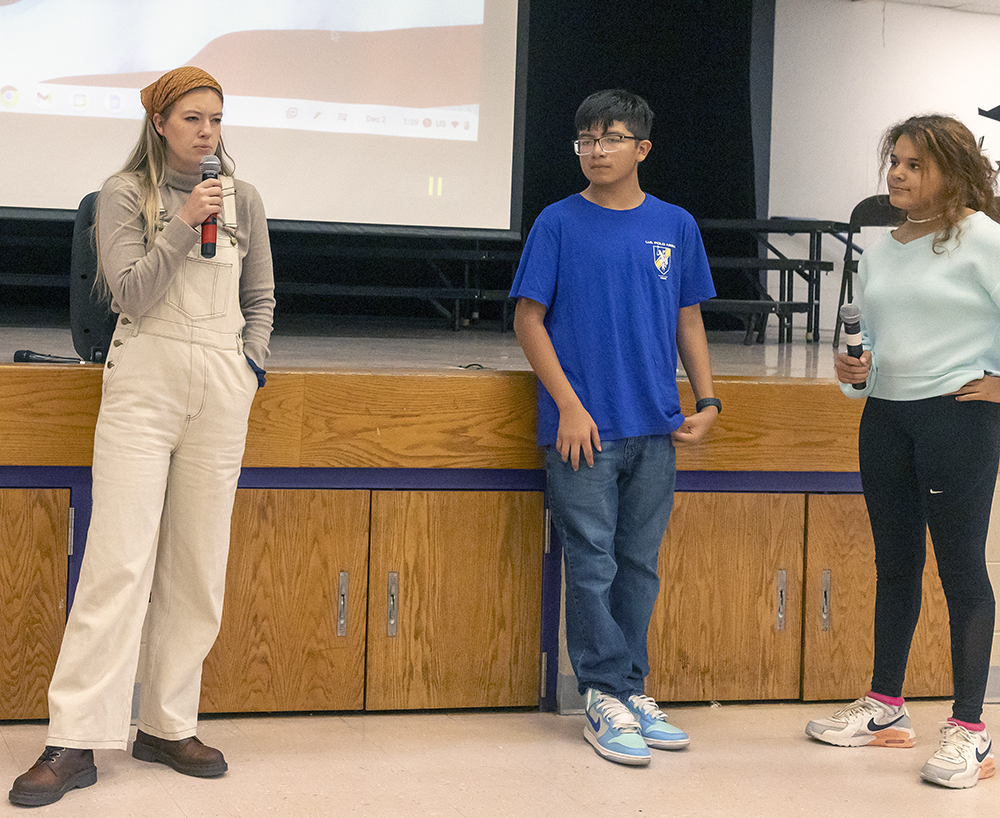 Wolves named to all-district team Several Heavener football players were recognized when the all-district 2A-6 team was released Wednesday. Dalton Semore was named the district's quarterback of the year; Jaxon Armstrong was the wide receiver of the year; and Camden Broyles was the tight end of the year. Other players named all-district were: PJ Riddley at running back; Jackson Clubb wide receiver; Devry Ritter wide receiver; Jacob Vickers offensive line; Tristan Griffith outside linebacker; and Jerami Casteel JR. on the defensive line.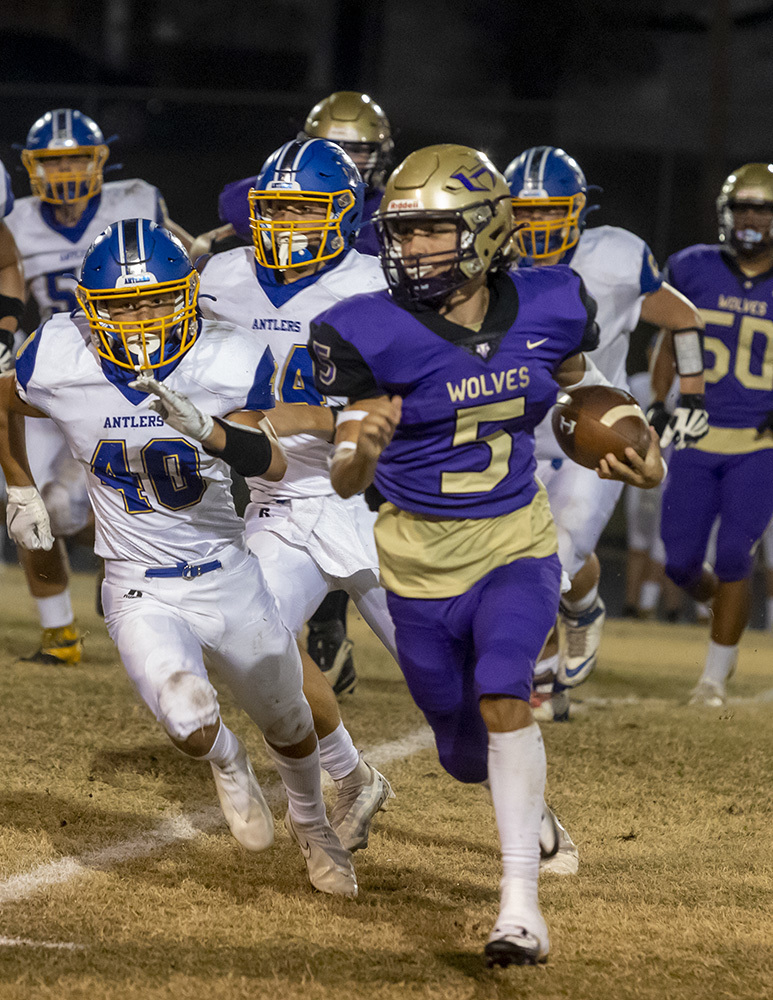 Heavener seventh and eighth grade academic team finishes second in a district meet Wednesday, which also included Fort Gibson and Stigler.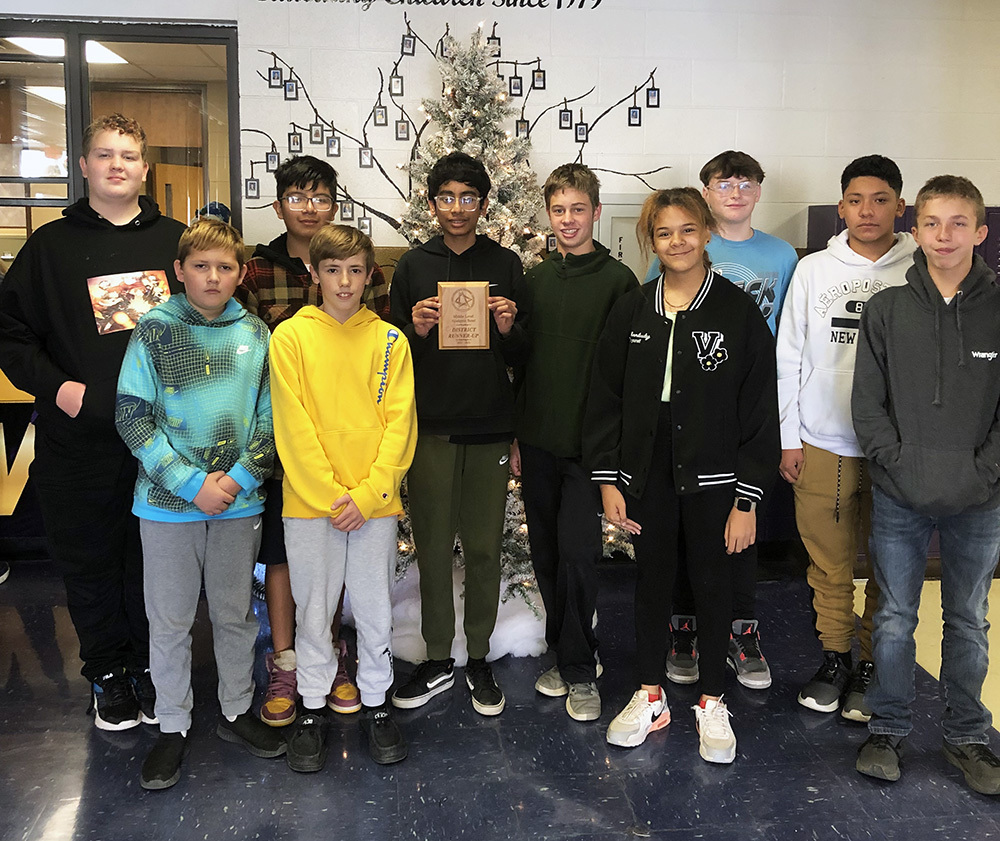 Brand signs with SNU Heavener senior Kinley Brand signed to play softball with Southern Nazarene out of Bethany Wednesday morning. Brand was a starter all four years for the Lady Wolves and was the main pitcher for the Lady Wolves the last two seasons in fast pitch. She had a career record of 43-33, including 11-10 with one save this past season. She also had a save with 113 strikeouts with only 29 walks. Brand also led Heavener at the plate with a .530 average with 20 stolen bases, 31 runs and 13 RBI. Watch her signing video here:
https://youtu.be/fOMjw7Wk57s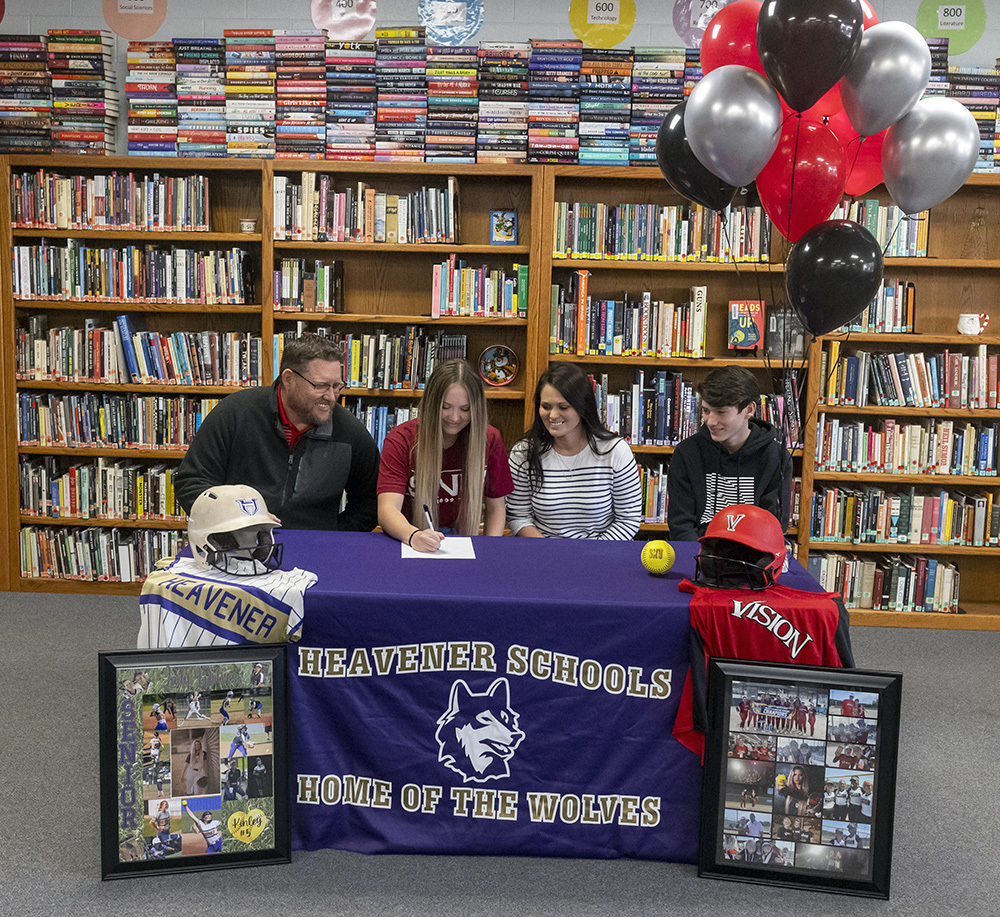 Wolves have first wrestling matches Heavener High School had its first wrestling matches Tuesday night at Fort Smith Northside against the hosts and the Poteau junior varsity team. Heavener wrestled Poteau's JV first, followed by Northside. Jaxon Armstrong led the way going 2-0 with 2 pins, Alex Armstrong and Kevin Bretado both went 1-1, both winning their matches by pinfall. Jorge Lira, Brason Davies, Jerami Casteel Jr, and Travis Kincaid all wrestled tough, but couldn't pick up their first wins. Coach Jack Armstrong said the Heavener wrestlers are getting better every day and they are working hard. Heavener's next dual is at Broken Bow Dec. 13.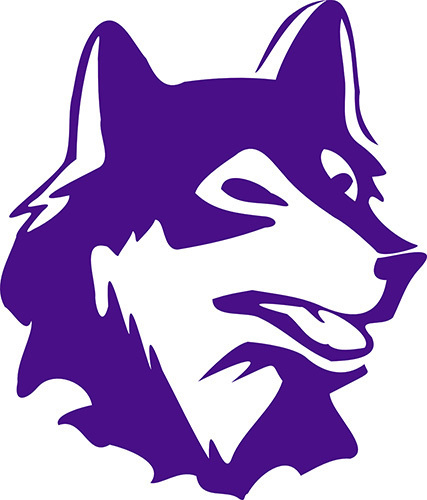 Heavener's basketball games tonight will only be junior varsity games. Poteau's girls postponed due to several sick players.



Basketball Tuesday 11/29 @ Poteau JV Boys 6:00, Varsity Girls 7:00. No Varsity Boys Game.

Heavener Public Schools is now hiring a substitute school nurse. If you are interested, call the Superintendent's office at (918) 653-7223 or stop by and pick up an application at the Glenn Scott Center, 500 West 2nd Street, located across the street from the First Baptist Church in Heavener.

Wolf Nation, as basketball gets going full force this week please remember that the Oklahoma Secondary Schools Association (OSSAA) has implemented a new policy regarding the behavior of coaches, players, and spectators during athletic events. Under these guidelines, the season can be canceled for a team or an individual following two "egregious" acts of unsportsmanlike conduct, this includes being ineligible from participating in the playoffs. Examples include fighting among players or fans, constant verbal attacks of officials, and the use of inappropriate or demeaning chants rom the sideline or stands.

Brackets for Monroe Tournament where our fourth, along with fifth and sixth boys and girls are taking part in.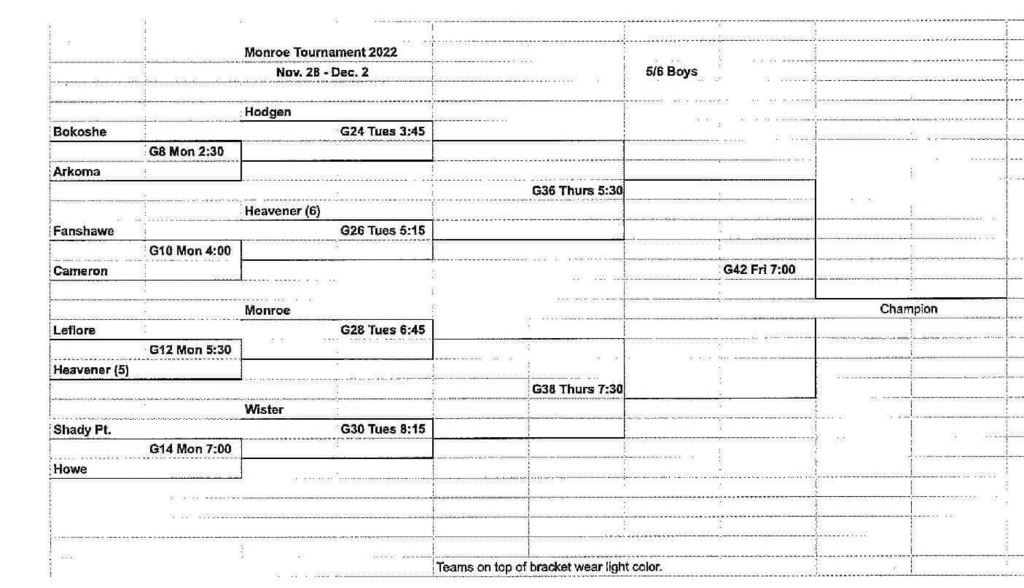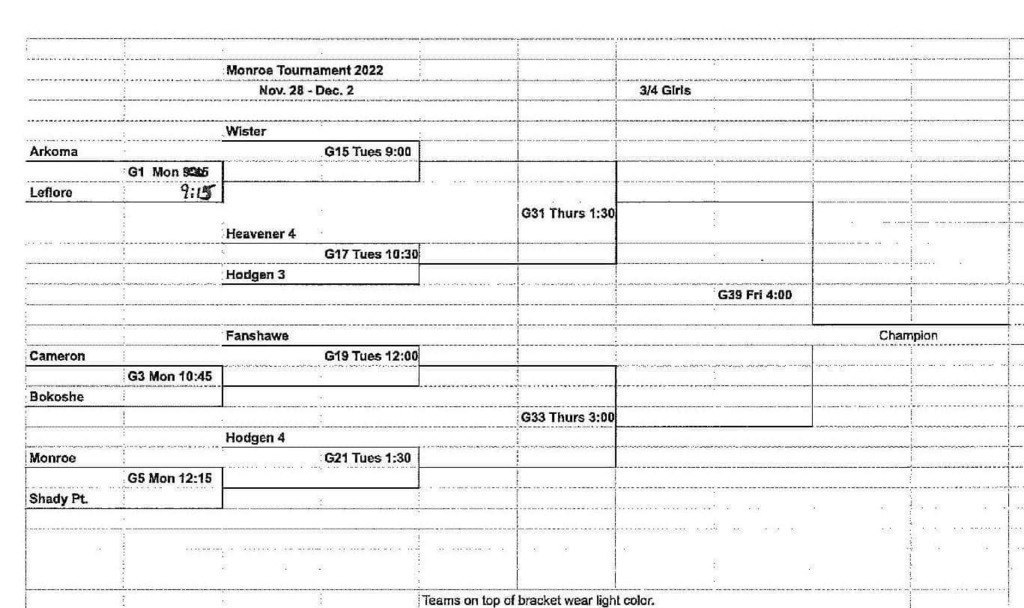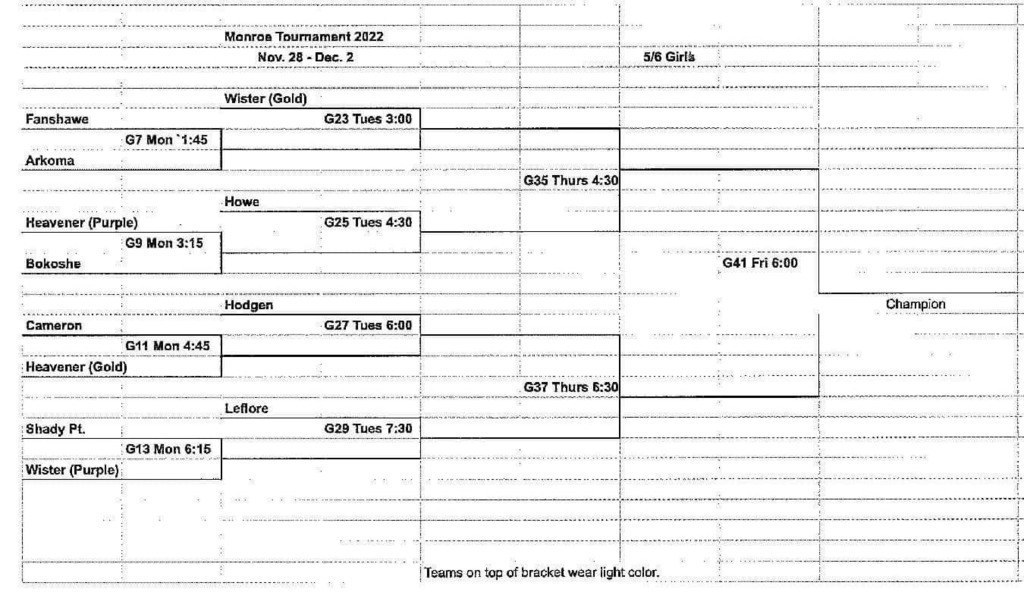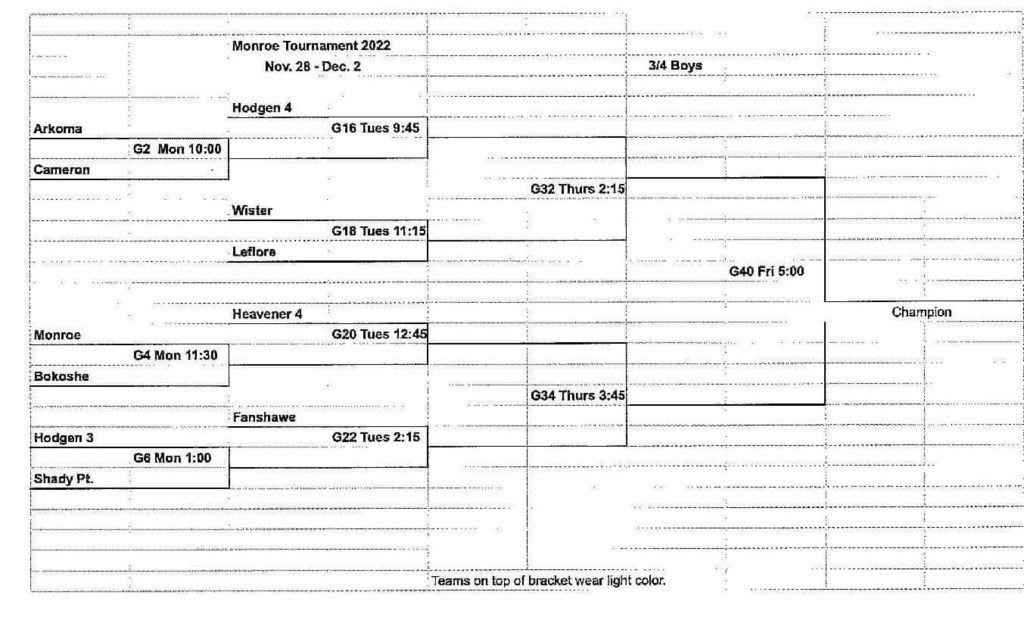 ONE FINAL CORRECTION TO THE NOVEMBER 29 game @ Poteau. JV boys will start at 4:30 with varsity girls to follow. No varsity boys on November 29

CORRECTION: The NOVEMBER 29th basketball game @ Poteau will be JV Boys at 5:00 with Varsity Girls Following. There will be no Varsity Boys game that night due to football playoffs.