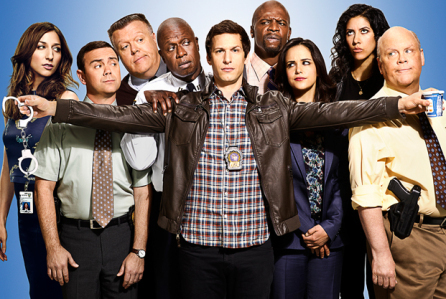 Streaming Now
Madison Slusser
Thursday, November 08, 2018
Streaming Now
Streaming on Hulu: "Brooklyn Nine-Nine"
"Brooklyn Nine-Nine" blends hilarity and heart into the unflagging crime comedy, making it a series that will grab hold of its viewers. The show follows Jake Peralta, an immature yet skillful detective at Brooklyn's 99th Precinct, along with his competitive partner, Amy Santiago, and the other charismatic detectives. In the beginning, after having had an incompetent captain, Peralta chafes at adapting to the presence of the precinct's new no-nonsense commanding officer, Captain Raymond Holt. As the series progresses, Peralta and Holt soon develop a close friendship.
The series will give viewers a laugh when in need of cheering up. As it is full of slapstick, dead-pan humor and crazy shenanigans, "Brooklyn Nine-Nine" is a show that no one will tire of. The cast does a fabulous job at portraying their characters. There is not a single character that I dislike because each character is so spectacularly hilarious and quirky. Brooklyn Nine-Nine remains fresh because of the on-going character development, changing stories, and eccentric personalities. I found myself laughing out loud (almost to the point of tears) on every single episode. It is a perfect parody of detective/crime shows and is definitely one of my favorite comedy shows to date. For those who love "The Office," "Brooklyn Nine-Nine" is a must watch. Though the shows share many differences, "Brooklyn Nine-Nine" seemed almost reminiscent of "The Office." I recommend "Brooklyn Nine-Nine" to anyone who needs a laugh.
Streaming on Netflix: "The Guernsey Literary and Potato Peel Pie Society"
"The Guernsey and Potato Peel Pie Society" film was released in August of this year. The film is a moving adaptation of Mary Ann Shaffer and Annie Barrows' novel. "The Guernsey Literary and Potato Peel Pie Society" takes place in the wake of World War II. The film follows the writer Juliet Ashton's journey from London to the quaint island of Guernsey where she meets the Guernsey Literary and Potato Peel Pie Society. Juliet discovered the book club after receiving a letter from Dawsey Adams, a member of the group. The book club was formed while the island was under German occupation and there was little freedom to enjoy the presence of company and gatherings.
The film is full of picturesque landscapes and heartwarming scenes. The endearing characters make the movie significantly more engrossing. It blends tales of friendship, family, romance, and a love of literature wonderfully. The film is a charming and lighthearted English drama that will make viewers glad they watched it. Although it is a feel-good movie, "The Guernsey Literary" has heart and touches on a tragic period of time. After watching the film, I immediately wanted to read the book. The movie was extremely refreshing to watch after all of the repetitive violent action plots that are released today.
-Madison Slusser