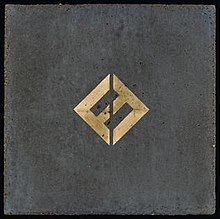 Foo Fighters' Concrete and Gold Album Review
Mackenzie Slusser
Sunday, February 11, 2018
Released on September 15th, 2017
Rating:
****
Impression: Song by Song
T-Shirt: An absolute AWESOME opener! One of my favorites off this album. I really wish it was longer.
Run: "T-Shirt" transitions beautifully into "Run." "Run" is a definite stadium rocker. I can totally see the Foo Fighters bringing down the house with this one.
Make It Right: Funky. Different than classic Foo Fighters, but still good. It would be great live. Justin Timberlake's backing vocals are very subtle and just what the track needs.
The Sky Is a Neighborhood: Good track, goes well with the album's sound. Very appropriate considering many legends in rock and roll passed away this year.
La Dee Da: Massive sound. I really dig the effects.
Dirty Water: Melodic and mellow in the beginning. I'm really liking the layered vocals on this album! Awesome drop in the middle of the song.
Arrows: Solid track! A bit repetitive, but still good.
Happy Ever After (Zero Hour): Acoustic. Classic Foo Fighters' style of upbeat tunes working against melancholic lyrics as in, "There ain't no superheroes, they're underground." Nice.
Sunday Rain: The drummer, Taylor Hawkins, takes the lead vocals in place of frontman Dave Grohl and Sir Paul McCartney takes over the drums (Yes, Paul McCartney.) Sunday Rain is bluesy, cool, and has a lot of swagger. Percussion-driven with heavy guitar effects in the background.
The Line: I love this! It's very uplifting. It is a new favorite song of mine for sure.
Concrete and Gold: Sonically massive and awesome droning guitar. Atmospheric and Pink Floyd-esque. A really great title track!
Overall Thoughts
This album is an experience. There is a variety of different sounds and moods explored across the tracks and no song sounds like the other. Very fresh and unlike their previous works. My favorite tracks off this album are "T-Shirt," "Run," "Sunday Rain," and "The Line." Concrete and Gold is definitely one of my favorite albums by the Foo Fighters. Absolutely worth a listen!