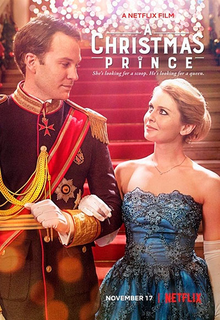 A Christmas Prince
Madison Slusser
Saturday, December 08, 2018
New on Netflix / "A Christmas Prince: The Royal Wedding" Review
Rating: 5/10
"A Christmas Prince: The Royal Wedding" was released on November 30th of this year and is the sequel to "A Christmas Prince," which was released on Netflix in 2017. The sequel picks up a year after Amber Moore—a journalist who stumbled into the kingdom of Aldovia—and Prince Richard fell in love and secured the crown. The couple is set to have their royal wedding on Christmas day, and along the way, Amber finds herself doubting her ability to fulfill her queenly duties.
"The Royal Wedding" is exactly what one would expect, a cheesy Christmas romance with quirky characters. "A Christmas Prince" is perfect for those who cannot help but enjoy goofy holiday romances. The Hallmark-esque film was yet again set in beautiful winter wonderland scenery, giving the movie its irresistible charm.
Some similarities to the real-life royals, Meghan Markle and Prince Harry, made an appearance in the film. With Amber's successful blog being forced to be shut down and the casual royal wedding look that she sports (quite like Meghan Markle's own look), it is almost identical to the real royals.
I must say that the first film was my favorite and contains a stronger focus on Amber and Richard's relationship. I did not particularly care for the change in actors, as the actor who played her father was different this time around. I felt like the new father seemed more obnoxious and did not seem quite like the wise man he was in the first movie. Others seem to agree as well that "The Royal Wedding" was lacking its original charm and relationships between characters. It almost seemed as if the plot was hurried at times and did not feel completely finished. Aside from the various plotholes, "A Christmas Prince: The Royal Wedding" is great for those expecting just the kind of film that it is, a really cheesy holiday movie. For those that can handle it and enjoy goofiness, this is the perfect Christmastime movie to catch on Netflix and cross off your go-to Hallmark checklist.