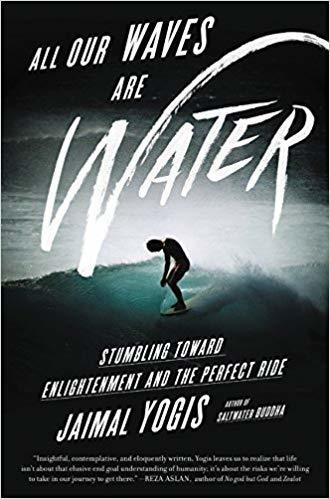 All Our Waves Are Water Review
Madison Slusser
Monday, October 08, 2018
All Our Waves Are Water Review
All Our Waves Are Water follows Jaimal Yogis' journey toward enlightenment and the perfect ride. For Jaimal, surfing is the path toward enlightenment. And while surfing is largely spoken of in this book, it is more about finding the balance and peace that is necessary for a fulfilling life. Yogis weaves interesting stories from when he was a twenty-year-old struggling through grad school, juggling journalism jobs, and traveling all over the world in a way that will make one unable to put the book down.
Even if you do not particularly care about surfing, you'll still enjoy this book. The plot moves along easily, which made it the perfect summertime read. Jaimal's style of writing is conversational and makes you feel as though you actually had an intense conversation about life with him. He writes of facing fears, letting go, and life's challenges, making it an inspirational read. I loved the vivid descriptions and portrayal of all of the people that Jaimal met along his travels. Each of them are so unique and have such interesting stories. It made me feel like I got to know them on a personal level.
It is safe to say that All Our Waves Are Water is quite possibly one of my favorite books. This book helps one realize that struggles will pass. In Jaimal's case, he survived them with a sense of humor and compassion. This book is one that makes you want to slow down and appreciate his lessons and thoughts. Whether you want to learn from this book or sit back, relax, and just enjoy the story, this is the book for you.
-Madison Slusser