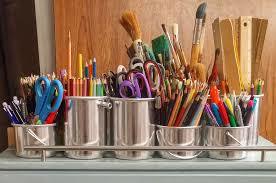 What's Going on in that Building?
Priscilla Ardemagni
Monday, April 23, 2018
This school year, Heavener started a three year-old preschool class in the newly acquired daycare building. Sandie Ardemagni and Whitnie Evans work there together. Mrs. Whitnie does all of the morning songs, calendar, shapes, colors, letters, and more; and Mrs. Sandie (who has worked at Heavener for 12 years) works with them at the tables teaching fine motor skills with play dough, coloring, patterns, colors, shapes, and lots of art. The goal is not to have the kids writing their names or know all their letters and sounds. The goal is to teach them to hold a crayon correctly, hold scissors and cut; doesn't even have to be on a straight line, to recognize their name, walk in a line, sit still on the carpet, play nicely with their friends, use good manners saying please, thank you, and allow others to go first. They work on the fine and gross motor skills. They also teach them that it's ok to spend a few hours without mom because they know she will always come back to get them after snack. Mrs. Whitney has been working at Heavener for 7 years, she has always loved working with kids. When she was younger she would lineup all of her teddy bears and pretend to teach them. She loves being able to go home and snuggle with her baby. Both ladies love being able to work there and hope they are both still going to be able to do it in the future.
--Priscilla Ardemagni